Write Great Songs and Get Them Sold!

at
Deedee O'Malley's

Songwriting

Boot Camp

!
New Dates Coming Soon
Call Deedee to Reserve Your Seat TODAY!
(818) 279-4414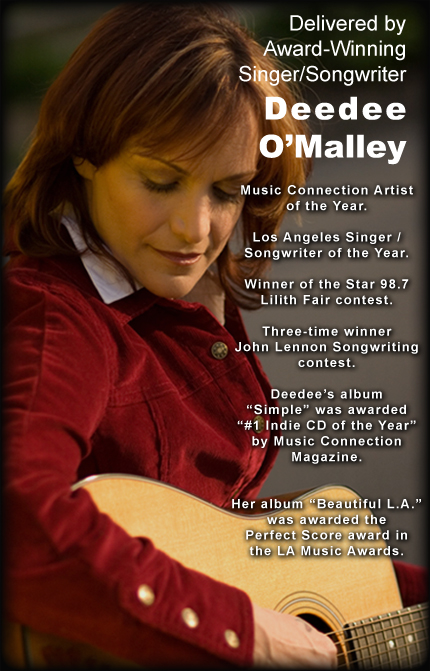 Register Early & Receive Two FREE BONUS GIFTS
---
"10 Easy Steps to Writing a Song!"
The greatest songwriting interactive manual in the world.
An autographed Deedee O'Malley CD of your choice!

---
20 people will learn and drill several amazing exercises designed to have you writing immediately!!
Each team will leave the workshop with at least one song written and recorded at a local studio!
Call Deedee to Reserve Your Seat TODAY!

(818) 279-4414

"Deedee's songwriting seminar gave me the exact information I needed to start writing. The information wasn't full of fluff or overly technical - it was comprised of fundamentals, delivered in a straightforward, simple format that left me inspired and able to write."
Tina Michelle, Country Singer/Songwriter